I still have a little person that can't reach the bathroom sink without a stool...for now. Within a year I expect him to be tall enough to do it on his own. But, for now, each time I trip over this stool I remind myself that he's little and just needs a small boost.
Someday that won't be the case. He'll be taller, but I imagine he'll still need a little boost from his mama now and then. It just won't be a physical one.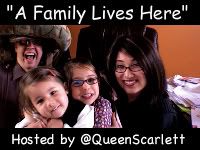 This post was inspired by Queen Scarlett.